Bathroom Design Canary Wharf
Need assistance with designing, supplying, and installing your bathroom? You've found it! To learn how we can assist you, get in touch with us today.
Explore Opulent Bathroom Designs in Canary Wharf
Customer satisfaction is our first goal at Hugo Oliver. Every bathroom remodel starts with a comprehensive on-site assessment of your present setup and needs. Modern CAD technology is used by our team of experts to create bathrooms that reflect your aesthetic preferences and tastes. With the aid of this cutting-edge technology, you can see how your new bathroom will look even before building starts. Our ultimate goal is to exceed your expectations by delivering a stunning and fully functional bathroom.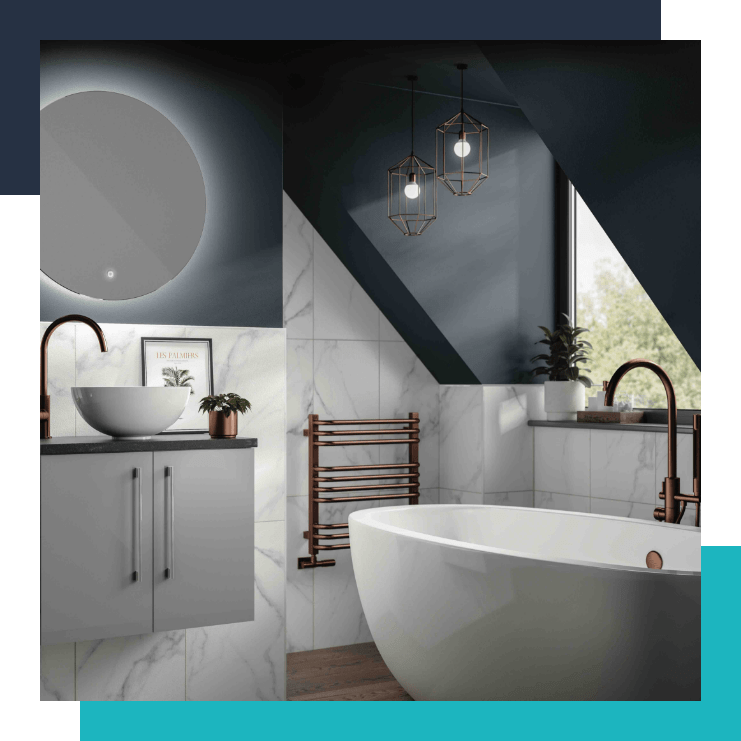 Bathroom Installations You Can Trust Throughout Canary Wharf
Use our team of experts for stress-free bathroom design and installation services around Canary Wharf! With years of experience in the field, we have the skills and knowledge required to guarantee that your project is finished to the highest standards. Your personal bathroom specialist will be assigned to you and will assist you throughout the process, offering timely counsel and resolving any issues you may have.
We are able to provide contemporary designs that satisfy your unique needs, whether it is space maximisation or aesthetic appeal, because we keep up with the most recent trends. Our team is dedicated to going above and beyond your expectations and producing fantastic results. Visit our website to explore our excellent portfolio of finished projects and learn how we can easily assist you in building your ideal bathroom right away.
Hugo Oliver's Bathroom

Showroom, Based in Charlton Near Greenwich, South East London
Upgrade your bathroom with ease by choosing Hugo Oliver! Our team of experts, who are based in and around Canary Wharf, Charlton, Eltham, and Woolwich, are dedicated to delivering exceptional customer service and a seamless renovation experience. With years of experience in the industry, our specialists possess the expertise to turn your bathroom dreams into reality. Don't hesitate to contact us today to discover more about our services!
Visit Our Luxury Bathroom Showroom Near Canary Wharf
Visit our Blackheath showroom to browse a huge selection of creative bathroom design concepts! Our displays are updated frequently to reflect the most recent styles and innovations for your bathroom renovation. Don't pass up the opportunity to see what we have to offer; we are confident you will be very pleased!
Discover Our Luxurious Bathroom Projects for Inspiration
Get ready to be inspired for your bathroom renovation by exploring our captivating case study page! We showcase a variety of styles and designs from our previous projects, offering you a chance to browse and discover ideas for your own bathroom design. Don't miss out on this exciting opportunity to explore and find what sparks your imagination!
Start Your Design Journey
"*" indicates required fields
Monday: 10:00am – 16:00pm
Tuesday: 10:00am – 16:00pm
Wednesday: 10:00am – 16:00pm
Thursday: 10:00am – 16:00pm
Friday: 10:00am – 16:00pm
Saturday: 10:00am – 16:00pm
Sunday: 11:00am – 16:00pm
Design consultations by appointment only.
Hugo Oliver (Charlton) Ltd
Unit 1, Meridian Trading Estate
Lombard Wall,
Charlton
London, SE7 7SW