Luxury Bathroom Showroom in Sidcup
Discover the ultimate destination for all things bathroom-related at our showroom. Whether you're envisioning a complete bathroom transformation or seeking those perfect finishing touches, we've got you covered.
Creating Luxury Bespoke Bathrooms in Sidcup
At Hugo Oliver in Sidcup, we appreciate that crafting your perfect bathroom is a personal and thrilling adventure. Our skilled designers, right here in Sidcup, are dedicated to turning your vision into reality. With their expertise and a flair for thoughtful design, they'll help you create a functional and stylish bathroom. From fixture selection to space optimisation, our team will collaborate closely with you to bring your unique ideas to life. Explore the realm of customised bathroom design with us!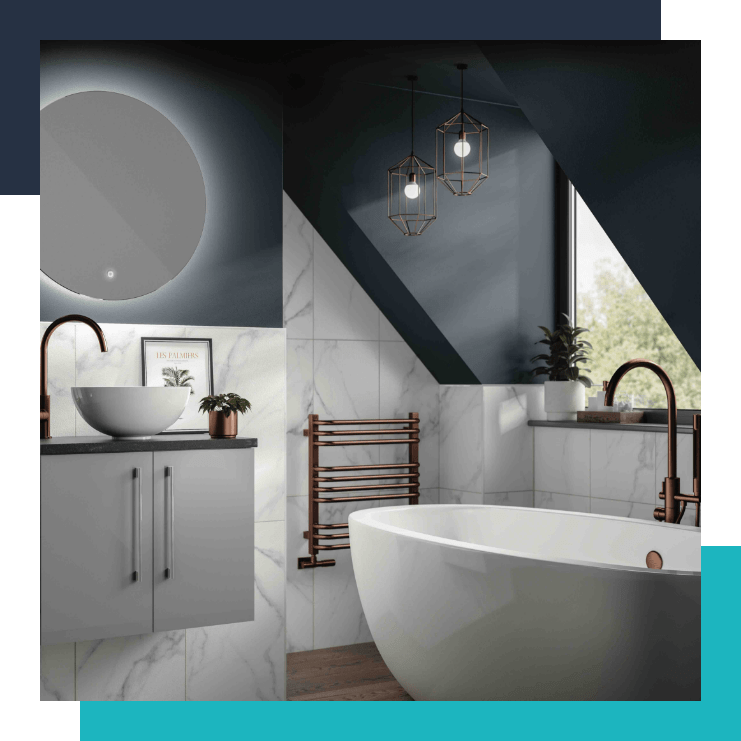 Professional Bathroom Installation in Sidcup
Our professional installers in Sidcup are dedicated to enhancing your space with utmost care and professionalism. They bring their expertise to tackle a range of projects, even the most intricate ones. From plumbing and electrical work to flawless tiling and fixture installation, our team excels in every detail. Count on us to turn your bathroom dreams into a reality, crafting a space for your relaxation and enjoyment.
Located near Greenwich in Charlton, South East London, you'll find Hugo Oliver's Bathroom Showroom.
Our committed team of professionals serves Charlton, Eltham, Woolwich, and nearby areas, providing excellent customer service and a smooth remodelling experience. With our deep industry knowledge, our skilled experts are well-equipped to transform your bathroom ideas into a reality. Please don't hesitate to contact us if you'd like to learn more about our services.
Explore Our Bathroom Showroom Near Sidcup
Discover the essence of luxury and creativity at our Sidcup bathroom showroom. Immerse yourself in an alluring showcase of the latest trends and top-quality selections in bathroom design. Whether you favour modern elegance or timeless sophistication, our collection presents a diverse range of exquisite fixtures, fittings, and accessories to cater to every style. Let our showroom inspire your imagination as you envision your ideal bathroom. Come visit us today to find firsthand inspiration.
Explore Our Luxury Bathroom Case Studies
Embark on a journey of inspiration as you delve into a thoughtfully curated array of styles and designs drawn from our previous projects. Discover what genuinely ignites your imagination for your personal bathroom design. Let our portfolio serve as a wellspring of creativity to fuel your visionary aspirations.
Start Your Design Journey
"*" indicates required fields
Monday: 10:00am – 16:00pm
Tuesday: 10:00am – 16:00pm
Wednesday: 10:00am – 16:00pm
Thursday: 10:00am – 16:00pm
Friday: 10:00am – 16:00pm
Saturday: 10:00am – 16:00pm
Sunday: 11:00am – 16:00pm
Design consultations by appointment only.
Hugo Oliver (Charlton) Ltd
Unit 1, Meridian Trading Estate
Lombard Wall,
Charlton
London, SE7 7SW